winemaking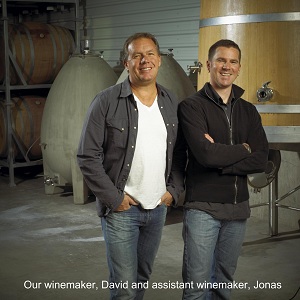 Since inception, our goal has been to continuously be "best of breed" in the business. To achieve that, Laughing Stock is a 100% hands-on operation. We diligently tend to every stage of the winegrowing, and winemaking processes. Cynthia focuses on estate vineyard operations and David is responsible for the making of wine.
Our winemaking philosophy is focused on super premium, small production wines using techniques that showcase the very best from the fruit we grow. In 2005, we built a leading-edge winemaking facility: a 4,600 sq. ft. steel building on our sloping site complete with an underground barrel cellar. The design leverages the hillside on which we live and reaps the major benefits from a gravity flow system including limited intervention and handling of the wine in its development.
We invested in top-of-the-line winery equipment like double sorting tables to ensure that only the best fruit clusters are used. We can also regulate how much whole berry fruit goes into the fermentors. We aim to always improve the wines year to year and as such we have been exploring a variety of fermentation vehicles over the past few years including temperature regulated stainless tanks, a large French oak fermentor (which we call the "Ferminator") and the recent addition of two concrete eggs (nicknamed "Free Range" and "Scrambled"). Complexity is added to the wines through an extended barrel-aging program using 100% French oak in both standard barrels sizes and 500 liter puncheons.
Now coming up to our 10th harvest, the days of wearing suits and pushing paper seem far behind us!