Annual General Meeting
August 25, 2017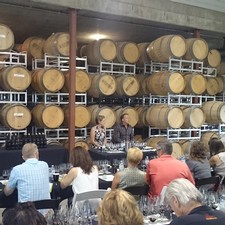 We will taste through a selection of Laughing Stock wines, often including special projects and barrel samples. And of course, no shareholder event would be complete without a sneak-peak tasting of the upcoming release of Portfolio 2015. More details to follow.
Who: Preferred Shareholder Wine Club member and one guest
What: A seated tasting with Winemaker/Owners, David & Cynthia Enns
When: August 25, 2017 - 2:00 PM to 4:30 PM
Where: In the barrel room at Laughing Stock Vineyards Winery 1548 Naramata Road Penticton, BC
Tickets are limited, so reserve by August 11, 2017. Email preferredshare@laughingstock.ca or call 250.493.8466 or purchase online.