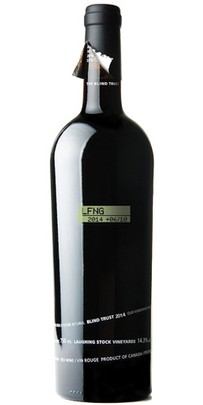 Wine Specs
Harvest Date
October 6, 2014
Aging
15 months in French Oak Barrels
Fermentation
20% New Barrels, 80% Second Use Barrels, 100% French Oak
Blind Trust Red 2014
wine profile
The Blind Trust is the second label of our big Bordeaux style blends, and its robust taste profile and affordable pricing make it a solid investment.
The first year where Malbec dominates the blend, it brings a juicy Nibs licorice and blackberry flavour to play off the more robust black peper spice and backbone provide by the Cabs. The palate is full bodied with luscious velvety tannins.
winemaking notes
Grapes are handpicked and hand sorted both by cluster and berry upon arrival at the winery. Fermentation is done mainly in stainless steel but David is also using oak fermenters and extended maceration on some lots. Since the barrels for Portfolio and Blind Trust are treated exactly the same for the first 15 months, the selection process is a lot like asking which of your children you like the best. Tough decisions indeed, especially when each vintage has 150 barrels with 5 varietals from a dozen vineyard blocks. If you want to blind taste the Blind Trust, read no further. Spoiler alert: 42% Malbec, 24% Merlot, 23% Cabernet Sauvignon, and 11% Cabernet Franc.
vintage notes
Simply put, the 2014 growing year was HOT. For grape growing, that translates to a quality vintage year. Even with the typical June rains, the season was above average for temperatures and the early spring really created a long growing season. While we anticipated an early harvest, we did get a nice pause with warm days and cool nights typical of the Okanagan Valley. This allowed flavours to develop and catch up with the sugar development and still retain fresh acidity for balanced whites. Definitely a stunning vintage.