Kitten Swish 2016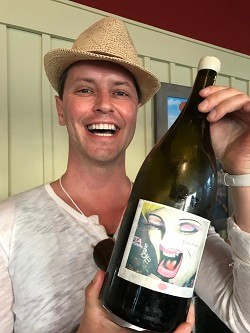 A special project with Brad Royale, a respected Sommelier in the happening Calgary food scene, this is the 3rd release of Kitten Swish Cabernet Franc - Pleasure Buttons. Brad started the Kitten Swish wine label to act as a 'negociant' and showcase the best of a region by partnering with top tier wineries around the world. He chose Laughing Stock Vineyards to work with in the Okanagan.
winemaking notes
We've always aimed to make something pretty with Cabernet Franc that evokes the more delicate nature of the grape and the 2016 vintage was perfect for us; having ample energy and brightness with wonderful retention of acidity. I think we've utilized the freshness of the vintage to ramp up the aromatics and while the wine has body and power there is a litheness to it that I love. The wine floats past the glass revealing floral hibiscus, preserved pine and saturated blueberry and shows lovely harmony on the palate and finish. When served with a slight chill the wine's acidity electrifies and gushes up the perfect twang of refreshment…perfect for fall evenings. As always this is wonderfully small in production and will only be available for a brief spell. For the first time ever there is a very tiny number of magnums available…get them!
Vintage notes
The 2016 vintage started out with the earliest bud break on record in the Okanagan. The early spring had significant heat units which caused the vineyards to surge in growth. A more moderate summer helped to gain back some balance in the vines. Ripening was early but gradual as fall rains slowed down the pace at harvest. An early frost on October 11th created havoc for some other vineyards, but all our sloped sites were able to continue ripening till the end of October. Overall an exceptional harvest with a very long growing season meaning more time on the vines for the grapes to develop complex flavours. This created super pretty fruit, real pretty!
Wine Specs
Appellation
Okanagan Valley