Long Table Dinner 2019
May 4, 2019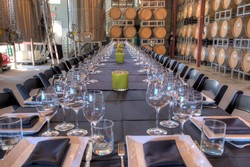 Preferred Shareholder Event
Join us for a wonderful informal Long Table Dinner featuring Laughing Stock wines and the amazing food stylings of Bouchon Bistro and hosted in our newly expanded winery. Limited seating.
Who: Preferred Share Wine Club members and guests
What: Multi course dinner paired with Laughing Stock wines
When: 6:00 pm Saturday May 4th, 2019
Where: Laughing Stock Vineyards @ the Winery - 1548 Naramata Road Penticton
Shuttle: Event transportation services are provided by Top Cat Tours and start from $20 per person round trip depending on where you are staying. To reserve transportation for this dinner, please contact Top Cat directly at 250-493-7385 or info@topcattours.com.
We encourage you to car pool or use the shuttle for a safe driving option going home.
Cost: $140 plus GST (includes gratuity)
Tickets are limited, so reserve by April 17, 2019. Email preferredshare@laughingstock.ca or call 250.493.8466 or purchase online.