Our team
Jonas Greig
assistant winemaker
Laughing Stock's "Custodian of Liquid Assets", Jonas Greig has worked side-by-side with winemaker and owner David Enns, for over 5 years. The skills required for his position include the ability to lift (many) barrels, managing the crush crew through long days, and a finely tuned palate to help dial in the wines. (Jonas even has his Sommelier designation).
Jonas loves to roll up his sleeves and get down and dirty with the wine making process, He is also famous 'round these parts for his famous ribs which took Top Chef prize at our harvest party Rib Cook Off. Jonas refuses to divulge the components of his rib sauce.
Addy Gowe
wine club coordinator & tasting room manager
A former Vancouverite and a not-so secret "foodie", Addy made the big leap to the little town of Penticton a few years ago even though her city friends thought she was crazy.
With a keen interest in Okanagan wines and solid hospitality and tourism background (including knowing how to feed the dolphins at the Vancouver Aquarium), Addy was a perfect find for running our tasting room and Preferred Share Wine Club. Perform a neat trick in the Tasting Room, and Addy might well reward you with some herring.
Sukhi & Balwinder Dhaliwal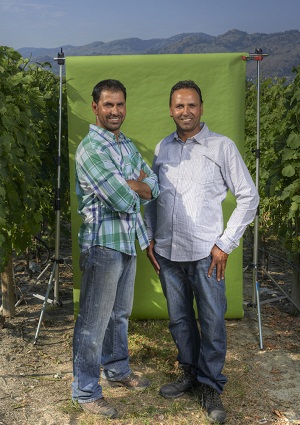 vineyard managers
perfect hedge vineyard, osoyoos
Sukhi and his brother, Balwinder (Bill) moved to BC over 20 years ago and have grown their own vineyard management business to look after over 100 acres in the South Okanagan. We are thrilled to have them as the custodians of our 15 acre Osoyoos property, the Perfect Hedge Vineyard for the past 5 years.
The Dhaliwals attention to detail in the vineyard, and their ability to 'read the leaves' to make irrigation decisions are second to none.