Welcome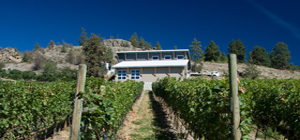 Located on the desirable Naramata Bench, Laughing Stock Vineyards is a serious enterprise with a most unfortunate moniker. We wake up everyday with the constant motivation of not living up to our name.
We strive to produce some of the highest quality wines in the Okanagan Valley. It's what we do.

Stock Pick

$190.60 / Nest Egg 6 Pack
Events & happenings
LFNG on BNN, David & Cynthia talk about changing careers and the challenge of selling BC wine in Ontario, Business News Network
Taking Stock - A Naramata Bench Icon Turns 10, Christopher Waters, VINES Magazine, September 2014
April 21, 2015
LFNG at James Beard House, NYC - "Women of the Wild West"
May 1, 2015
Tasting room open for the season. Call 250.493.8466 for an appointment or email tastings@laughingstock.ca
May 15, 2015
White wine release - Become a Preferred Shareholder to be first to receive our limited production Amphora wine
June 15, 2015
Red wine release - Become a Preferred Shareholder to be first to receive our award winning Syrah
View our most recent newsletter