Welcome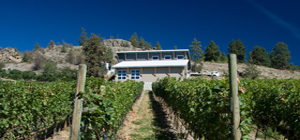 Located on the desirable Naramata Bench, Laughing Stock Vineyards is a serious enterprise with a most unfortunate moniker. We wake up everyday with the constant motivation of not living up to our name.
We strive to produce some of the highest quality wines in the Okanagan Valley. It's what we do.

Stock Pick
Events & happenings
February 7, 2014 - Canadian Culinary Championships Comes Down to White-knuckle Finish, Vancouver Sun, February 2014 - see Chef Pairings for Mystery Wine, Blind Trust White 2012.
February 20, 2014
Flavours of BC's Naramata Bench - Calgary, AB
February 28, 2014
Closing of Futures Offering of Portfolio 2012 - our 10th vintage!
March 8, 2014
Vertical & Vintages - Apex Mountain Resort, BC
April 30, 2014
Uncork your Palate, Naramata Bench Spring Release - Victoria, BC
May 2, 2014
Wine for Waves, Naramata Bench Spring Release - Vancouver, BC
December 2013 - April 2014
Tasting room closed for the season. Call for appointment or email tastings@laughingstock.ca
View our most recent nnewsletter