Amphora VR 2015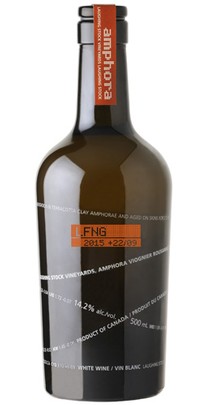 wine profile
This wine has a waxy texture and grippiness from the extended skin contact, balanced by the full bodied nature of the Viognier that has a beautiful mouth-coating oiliness. On the palate, there are flavours of baked yellow apple and clove and finishes with a slightly toasty orange peel.
winemaking notes
The Viognier was sourced from our Perfect Hedge Vineyard and picked on the same day as a small Roussanne block on the Naramata Bench. The grapes are placed whole cluster (without destemming or pressing) into two 500L clay Amphorae acquired from Chianti, Italy. The grapes are thus left to start fermenting without the addition of commercial yeasts and after two weeks, the ferment started naturally. This is called a 'wild ferment'.
Part of the experience of working with Amphorae has been to explore the boundaries of winemaking and each year David has left the wine 'on the skins' for an increasingly longer period. The 2013 process was 5 weeks, 2014 was 2.5 months and this year's vintage, 2015, was extended to 5.5 months. The wine was then pressed off, cross flow filtered and bottled.
vintage notes
Starting with a spectacularly warm spring, 2015 became one of the hottest on record in the Okanagan Valley. Hot doesn't necessarily guarantee a stellar vintage as vines can shut down once temperatures go beyond 35 degrees. And typical of recent hot summers, forest fires abounded creating other issues such as valley smoke, which ironically clouded the sunshine for a few weeks and slowed ripening. Overall, harvest dates were two to three weeks early with fabulously ripe fruit. For white wines, the trick to calling the right pick date was to pay attention to flavours and acidity as much as standard ripeness indicators such as Brix.
vineyards
Perfect Hedge Vineyard, East Bench, Osoyoos & Eventus Vineyard, Naramata Bench
Wine Specs
Varietal
Amphora - Viognier Roussanne
Harvest Date
September 22, 2015
Aging
Aged on skins for 5 months