Our team
Cohen Park
cellar hand
Officially Cohen joined the Laughing Stock winemaking team in July 2020 after a couple seasons helping with harvest and bottling. No stranger to the region, Cohen comes from the South Okanagan & Similkameen Valleys. After the intense and busy summers of the Okanagan valley as a chef, the shoulder seasons allowed Cohen to explore other facets of the hospitality industry. After only his second harvest, Cohen was drawn to the art of winemaking, and left the kitchen.
"From sorting grapes to stirring of barrels and the chime of bottling glass, I am learning the science behind it all and hope to delve further into winemaking in the future, it's really hard to have a bad day at the office! (Especially with the spectacular views)."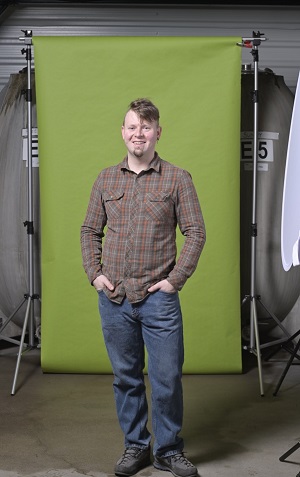 Dave Carson
senior winemaker
Dave has worked in vineyards since age eleven. With many years of practical winemaking experience Dave completed his formal winemaking education through U.C. Davis in California. He later became Senior winemaker for the Constellation Brands (now Arterra Wines Canada) Oliver winery in Okanagan where he led the winemaking teams for Jackson-Triggs, See Ya Later Ranch, Sumac Ridge and Inniskillin. In 2015 Dave was promoted to Senior Winemaker for the Okanagan Estates and took on lead winemaker responsibilities for the prestigious Sunrock Vineyards. In late 2019 Dave stepped in to lend his expertise during harvest at Laughing Stock Vineyards. It was then, that Dave began contemplating his legacy. Although retirement isn't in the imminent future, Dave thought it was time to focus on sharing his passion for winemaking with the next generation.
His side kick Ryder, is never far away.