Our team
Stefanie Dylla
assistant winemaker
The best thing about having Ontario's Brock University offer a quality wine-making program is that we get all their grads wanting to relocate to BC. Stef joined our winery team for the 2016 Harvest and has been putting her BSc Honours in Viticulture and Oenology to practical application ever since.
In addition to 2 harvests in Ontario, Stef did a harvest in New Zealand's Marlborough before coming back to BC for good. She loves the whole cycle of winemaking, although not the biggest fan of our vibrating sorting table at harvest (grab the Gravol!).
When not working with the barrels, you can find Stef doing Okanagan classics like paddle-boarding or hitting the Penticton farmer's market.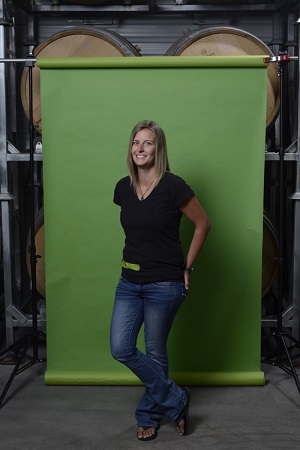 Jean-Philippe Tremblay
vineyard manager, naramata
Like many adventurous Quebecois youth, Jean-Philippe came out to the Okanagan Valley on a quest to the West to pick cherries. However, that was almost a decade ago and he just never left. Fortunately for us, he found the love of vineyards and has been working the vines for over 5 years before joining us this year to oversee our Naramata vineyards.
While he may be small in stature, JP's big on hard work and can master any machine. As JP said to David one day as he walked out of the vineyard, "I'm making wine in those vines". Right answer!
But if you are looking for him in the vineyard, be sure to yell loudly to get his attention above the raging heavy metal music in his omnipresent headphones.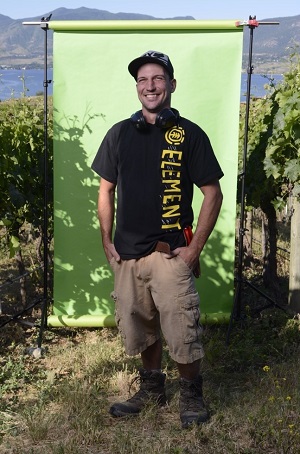 Sukhi & Balwinder Dhaliwal
vineyard managers
perfect hedge vineyard, osoyoos
Sukhi and his brother, Balwinder (Bill) moved to BC over 20 years ago and have grown their own vineyard management business to look after over 100 acres in the South Okanagan. We are thrilled to have them as the custodians of our 15 acre Osoyoos property, the Perfect Hedge Vineyard for the past 7 years.
The Dhaliwals attention to detail in the vineyard, and their ability to 'read the leaves' to make irrigation decisions are second to none.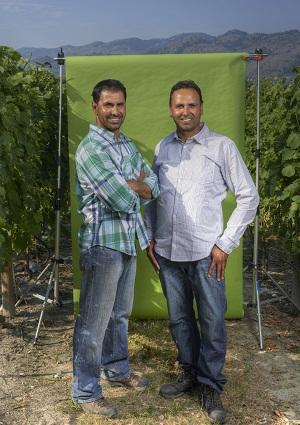 Holly Brockmeyer
investor relations
Holly is in charge of our 'investors", a.k.a. managing the ever-growing Preferred Share Wine Club and busy appointment-only Tasting Room.
Holly has developed her wine knowledge with a "hands on" approach touring the wine regions of the world including cycling the Barossa Valley and tasting Penfold's Grange Hermitage. Now biking and drinking ... there's an idea. Then bringing home wine from St. Emilion and having the Chateau fudge the receipt lower, 'C'est Normal', and hoping Customs doesn't drink Grand Cru Classe.
Holly's background is as diverse as the varietals found in the Okanagan: transportation, recycling, spa, and most recently successful restauranteur. Throughout it all wine has been a passion of hers, although her dog's name is Guinness, go figure!
Email Holly at holly@laughingstock.ca about our Preferred Share Wine Club or to set up a tasting.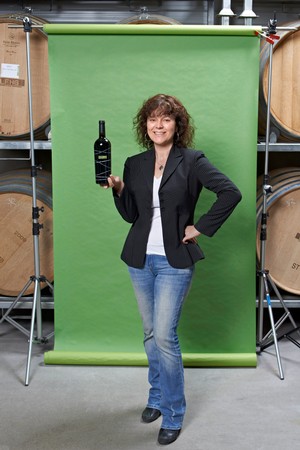 Sarah Isaksen
office manager
Having decided Northern BC is just too cold, Sarah decided to give in and come to the sunny Okanagan. Upon meeting her Sommelier husband, she quickly graduated from drinking sweet, pink girly wines to appreciating a good Syrah.
This newfound interest in the wine business pairs well with her years of administrative & book-keeping experience (pun totally intended). If you're in the Tasting Room and hear rustling and even sometimes muttering coming from behind the sliding doors, you know she's hard at work.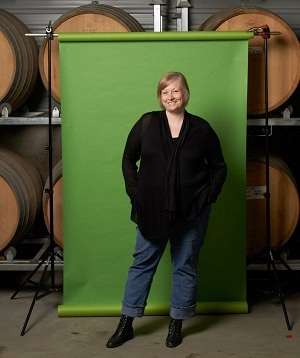 Radar
marmot chaser
Every winery needs a winery dog, and Radar fulfills the requirements of that job perfectly. He is in and out of the winery all day, always right on the heels of winemaker David Enns, and will happily hang out and watch whatever action is going on. He also visits the office regularly to greet the team and check to see if there's any interesting food to be shared.
A mix of Border Collie and Bernese Mountain Dog, he is playful, smart, and pretty much the best winery dog ever.