Blind Trust Red 2016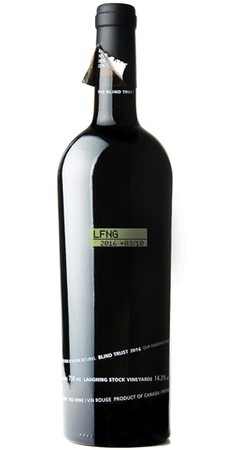 This product can not be shipped to BC
wine profile
A blind trust is a financial trust in which the executors have full discretion over the assets, and the trust beneficiaries have no knowledge of the holdings of the trust. In this case, our Blind Trust is a wine in which the winemaker has full discretion over the blend, so you'll just have to trust us.
The Blind Trust is the second label of our big Bordeaux inspired blends. It's robust taste profile and affordable pricing make it a solid investment.
Always a secretive blend, the 2016 vintage has bright red fruit which it shows off in its lovely ruby hue. The chocolate cherry nose melts perfectly into warm cedar, bell pepper and cured meat on the palette. While the Blind Trust Red 2016 is hard to resist in its current state those who have the willpower to cellar will be rewarded for years to come.
INSIDER TIP: Blind taste the Blind Trust and try to guess the varietals before disclosing the assets which are kept under wrap and seal of the capsule.
winemaking notes
Grapes are handpicked and hand sorted both by cluster and berry upon arrival at the winery. Fermentation is done mainly in stainless steel, but David is also using oak fermenters and extended maceration on some lots. While the lots of both Blind Trust and Portfolio are treated exactly the same for the first 15 months, the selection process is about making Portfolio the best it can be, while making the Blind Trust approachable and better suited for drinking early-on. Tough decisions indeed, especially when each vintage has 200 barrels with 5 varietals from a dozen vineyard blocks.
If you want to blind taste the Blind Trust, read no further. Spoiler alert: 45% Merlot, 24% Cabernet Sauvignon, 22% Malbec, and 9% Cabernet Franc to create a multi-layered, complex wine.
vintage notes
2017 brought some wild weather. One of the coldest winters we've experienced in years gave way to a cool, wet spring. Although there was flooding in the Okanagan, it was followed by 54 straight days with no rain. The hot dry summer allowed fruit development to catch up from its late start and created smaller more concentrated grapes. Fall weather cooled down quickly, but we were able to bring in our fruit prior to any risk of frost. Overall, expect ripeness and weight to the wines, while still retaining bright fruit flavours
vineyard source
Sourced from 3 sites on the Naramata Bench and from the Perfect Hedge Vineyard in Osoyoos.
Wine Specs
Appellation
Okanagan Valley
Harvest Date
October 3, 2016
Aging
15 months in French Oak
Fermentation
25% new barrels, 75% second & third use barrels