Blind Trust Red 2015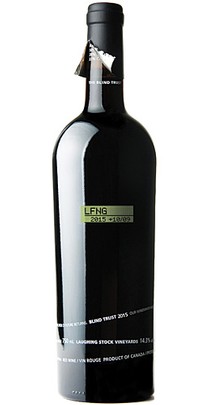 wine profile
A blind trust is a financial trust in which the executors have full discretion over the assets, and the trust beneficiaries have no knowledge of the holdings of the trust. In this case, our Blind Trust is a wine in which the winemaker has full discretion over the blend, so you'll just have to trust us.
The Blind Trust is the second label of our big Bordeaux inspired blends. It's robust taste profile and affordable pricing make it a solid investment.
Always a secretive blend, the 2015 vintage has both depth and opulent flavours including crisp dark black cherry and currant with a playful note of stewed strawberry and toasted vanilla bean. The depth of flavour is complimented by a touch of acid to refresh the palate and fine grained silty tannins provide the wine with extra muscle. While the Blind Trust Red 2015 is hard to resist in its current state those who have the willpower to cellar will be rewarded for years to come.
INSIDER TIP: Blind taste the Blind Trust and try to guess the varietals before disclosing the assets which are kept under wrap and seal of the capsule.
winemaking Notes
Grapes are handpicked and hand sorted both by cluster and berry upon arrival at the winery. Fermentation is done mainly in stainless steel, but David is also using oak fermenters and extended maceration on some lots. While the lots of both Blind Trust and Portfolio are treated exactly the same for the first 15 months, the selection process is about making Portfolio the best it can be, while making the Blind Trust approachable and better suited for drinking early-on. Tough decisions indeed, especially when each vintage has 200 barrels with 5 varietals from a dozen vineyard blocks.
If you want to blind taste the Blind Trust, read no further. Spoiler alert: 44% Merlot, 34% Malbec, 19% Cabernet Sauvignon and 3% Cabernet Franc.
Vintage Notes
Starting with a spectacularly warm spring, 2015 became one of the hottest on record in the Okanagan Valley. Hot doesn't necessarily guarantee a stellar vintage as vines can shut down once temperatures go beyond 35 degrees. And typical of recent hot summers, forest fires abounded creating other issues such as valley smoke, which clouded the sunshine for a few weeks and slowed ripening. Overall, harvest dates were two to three weeks early with fabulously ripe fruit.
Vineyards
Grapes are sourced from our Perfect Hedge Vineyard in Osoyoos as well as Enns Vineyard on Naramata Road. We also source from a few long term growers including some of the oldest Cabernet Franc vines on the Naramata bench.
Wine Specs
Harvest Date
October 9, 2015
Aging
15 months in French Oak
Fermentation
25% New French Oak Barrels, 75% Second & Third Use Barrels