Winemaker's Dinner
Saturday July 1st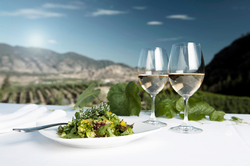 We are delighted to invite you to a very special event - a Winemaker's dinner. As a lover of fine wine, we know that you will appreciate the opportunity to experience a selection of exquisite wines, each expertly paired with a delicious multi-course meal.
The event will take place on July 1st at 7PM outdoors on the lawn, where we will be joined by the renowned wine maker Sandy Leier, who will introduce and discuss the wines throughout the evening. From the refreshing whites to the full-bodied reds, you will have the chance to sample a range of exceptional wines, each of which is a testament to the artistry and passion of the wine maker.
The menu has been carefully crafted to complement the wines and includes a variety of dishes made from locally-sourced ingredients. Our chef, Shawn Cheer, has created a culinary experience that is sure to delight your taste buds, and we are confident that you will leave feeling fully satisfied and impressed.
We hope you can join us for what promises to be an unforgettable evening of great food and wine. Please RSVP by August 24th to confirm your attendance, and let us know of any dietary requirements or preferences.
We look forward to sharing this special occasion with you.