Annual General Meeting 2019
August 23, 2019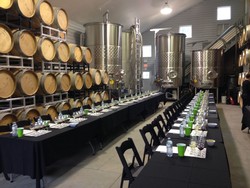 Preferred Shareholder Event
Bet you haven't been to a meeting like this before!
Join us for our Annual Preferred Shareholder AGM at the winery, where the agenda is all about wine with a moderated seated tasting.
This year we will dive into blending and give you a chance to do the same by learning the in and outs of blending and then try your hand at your own blend. And of course, no shareholder event would be complete without a sneak-peak tasting of the upcoming release of Portfolio 2017.
Who: Preferred Shareholder Wine Club member & 1 guest
What: A moderated seated tasting.
When: August 23, 2019 - 2:00 PM to 4:30 PM
Where: In the newly expanded winery at Laughing Stock Vineyards 1548 Naramata Road Penticton, BC
Tickets are limited, so reserve by August 12, 2019. Email preferredshare@laughingstock.ca or call 250.493.8466 or purchase online.