Syrah 2015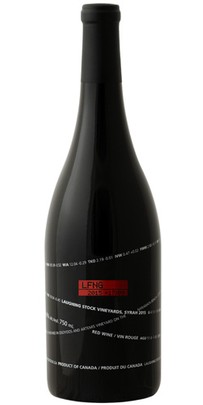 wine Profile
Syrah has become a powerful varietal for BC winegrowers, both in terms of its success in growing well in the south Okanagan, and for what it has been delivering in the glass. 100% estate grown on our Perfect Hedge vineyard in Osoyoos, the style is inspired by the classic Cote Rotie in Northern Rhone, blending 97% Syrah with 3% Viognier. This combines the strong masculinity of Syrah with the more delicate femininity of Viognier.
Watch this video of how Laughing Stock has invested in BC Syrah.
Deep and dense, the Syrah opens with a nose of dark chocolate cherry ganache, peppered bacon and black currants. On the palate, the wine has notes of ripe black cherries, bramble, charcuterie and a touch of sage – not surprising given the old growth sage bordering the vineyard. This wine can easily be tucked away in the cellar for 5-7 years
INSIDER TIP: 30% of this wine is not just aged, but also fermented in French oak puncheons and tanks, which imparts silky tannins and a lush roundness to the Syrah.
winemaking notes
The Syrah was fermented in three separate lots: 1 lot co-fermented with Viognier in stainless steel fermenters, another lot was fermented in 500 L open top French oak puncheons, and the last lot was fermented in a larger French oak tank called The Ferminator. In this tank, 80% was left as whole berry and 20% whole cluster. After pressing, the wine was barrel aged for 14 months in 35% new French oak.
vintage notes
Starting with a spectacularly warm spring, 2015 became one of the hottest on record in the Okanagan Valley. Hot doesn't necessarily guarantee a stellar vintage as vines can shut down once temperatures go beyond 35 degrees. And typical of recent hot summers, forest fires abounded creating other issues such as valley smoke, which clouded the sunshine for a few weeks and slowed ripening. Overall, harvest dates were two to three weeks early with fabulously ripe fruit
vineyard source
The Perfect Hedge Vineyard on East Bench, Osoyoos, Okanagan Valley
accolades
Gold- National Wine Awards of Canada Wine Align 2017
Wine Specs
Harvest Date
September 17, 216
Aging
Barrel aged for 14 months in 35% new French oak
Fermentation
60% Stainless Steel, 20% French Oak Tank, 20% French Oak Puncheon